A Bride's Favorites…New Blog Feature!
Shannon and I talked for a while about a way to get our brides (and grooms!) to tell us about their favorite images from their wedding day. Honestly, it all started from simply wanting to know more about how they connected with the photos and what they meant to them. Of course, we always have some that are our favorites from the day, but we look at it from the perspective of artistry, skill, and other such things. Usually, that is not the way a bride looks at them. While we may choose what is the "highest quality" photos, that does not mean they are the "best" photos we did. Only our brides really know for themselves what the best is.
Our first entry in the Bride's Favorites comes from Angie…our fun and energetic summer bride from the very neighborhood f my youth on the West End of Belleville. What she had to say totally choked us up, and we knew this had to be the first one we posted. When we read things like this, it makes us love our job even more. Thank you so much for sharing, Angie!
"My dad and I have never been emotional people, at least not in front of each other.  We have always been considered the funny, easy-going ones of the family who show little emotion.  However those days/weeks leading up to the wedding, I could already feel some pretty strong emotions building up in me and I knew the day of the wedding was going to be quite the emotional roller coaster for the two of us.  The thought of my dad seeing me for the first time all dolled up in my wedding dress ready to become a married woman brought tears to my eyes.
I am the youngest of 3 children, the third and final one to get married, and a daddy's girl for sure.  I see a lot of myself in my dad and have always viewed him as a role model.  He is a man who has shown me what it means to provide for a family and to be supportive no matter what the cause may be.  He has shown me kindness, love, and respect and how to have a positive outlook on life even when things are not looking their best.  He is and will be one of my best friends forever and this picture proves how deep our friendship and unconditional love for another goes.
Joel and Shannon asked my dad to stay out of the room while my girls got me ready, and when I was all dressed up and ready to go, they asked everyone to step out so my dad and I could have our first look together.  My heart was pounding and I was sweating like crazy, however, that could have been the 115 degree July weather
.  I wanted to make my dad so proud at that moment when he saw me for the first time, and the emotion we are both showing in these two photos says it all without words.  We both just held each other and cried and knew that moment between daughter and father would be held as a memory forever in hearts, and even more special in a picture too!  The feeling is the same every time I look at these photos.  It is a feeling of love, happiness, and a constant reminder, that no matter what life brings me or where it takes me, I will always be daddy's little girl.
Thanks Shannon and Joel for capturing such a special, important moment in both of our lives."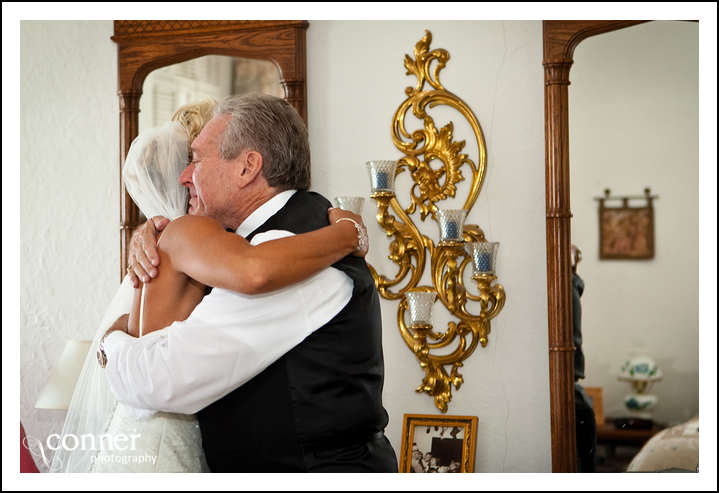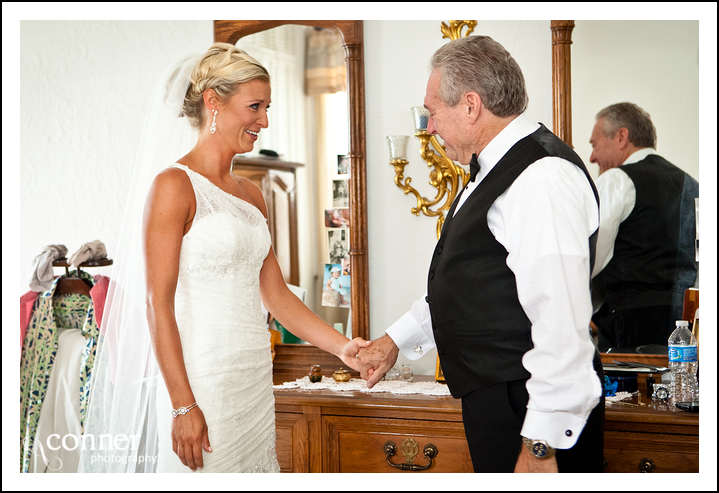 Written by
Joel Conner | St. Louis Wedding Photographer