Bride's Favorites//Kelli & Jeremy
Bride's Favorite Wedding Day Photos and Why by St Louis Wedding Photographers, Joel and Shannon Conner
We ask our couples to pick out their favorite wedding photo and tell us why it is. We always have our favorites of course, but we love to hear from our couples about what they love!
———————–
Picking out 1 or 2 of my favorite pictures from all of the wedding pictures was a very hard task to do! I am so happy with so many of them, that I didn't want to have to narrow it down. All of the pictures that I would pick, are my favorites for different reasons. The 2 that I chose to write my blog about are from the cake cutting session of the wedding. These 2 stuck out to me because it says a lot about our relationship. We have a lot of fun together as a couple, and try not to take life too seriously! We had discussed this part of the wedding weeks prior to the big day, and had the "OK" from each other that we didn't have to keep this part clean. The cake smashing did go farther than planned, but from the looks of our faces it doesn't seem as neither of us minded.
Jeremy and I have a lot of fun being together, whether we are alone or with a group of friends. We've done many embarassing things around each other, but I can honestly say that I've never been embarrassed when I'm around him. I can say with out a doubt that I found my soul mate and now I'm marry to my best friend! 🙂 I can't wait to see what the future holds for us!
XoXo ~ Kelli Zurliene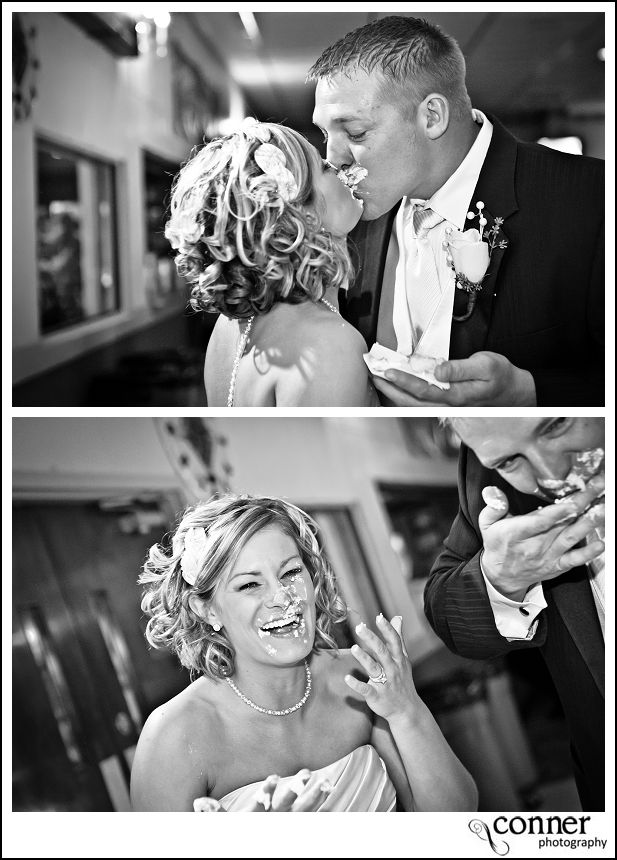 Written by Shannon Conner | Best St. Louis Wedding Photographers