by St Louis Wedding Photographers Joel & Shannon
38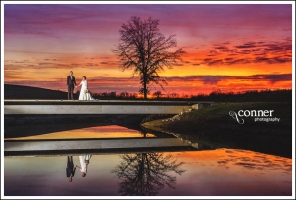 St Louis Wedding Photographers Joel & Shannon at Villa Marie Winery We love, love LOVE fall weddings. Especially ones that have gorgeous sunsets. It is funny, because I was joking earlier in the fall about how we almost never get … Continued
We love, love LOVE fall weddings. Especially ones that have gorgeous sunsets. It is funny, because I was joking earlier in the fall about how we almost never get great sunsets on the nights we are shooting. Well, Jaclene and Tanner's wonderful late November wedding made up for that for sure!
We first met Jaclene at the Gateway Bridal Show in our own home town, and we could tell she would be a great fit for us. We did her and Tanner's engagement session at the old Alton High School...where they had met. We always love when we get to do sessions in places that are special to the couple, and we had a great time going around the school and getting some really unique images. Their wedding was scheduled to be at Villa Marie Winery, which is a great place not very far from us.  One thing that was very clear early on to us was how important family is two both of these two. It is so wonderful when the families are so involved, because it just brings a very special and precious feel to everything. Along with the note that Jaclene gave to Tanner, she also wrote one to her dad. This was not the only time during the day that he was overcome with the emotions of his daughter getting married.
Speaking of gifts, big props to Tanner for probably the best gift to the bride all year. It was not an expensive thing, and he honestly was not sure it was a decent gift. He had kept almost every ticket stub from every movie they had seen together from their first date until now. He put them all in a scrapbook for her. As soon as he told me, I assured him that it was a perfect gift. The look on Jaclene's face when she opened it proved it to be true.
It was late in the year, so we knew that most of the greenier would be slightly less than green. But, we planned accordingly to do some things that we knew would work. After the ceremony, we went outside to soak up what little of the daylight was left. Thankfully, we were rewarded with the amazing sunset that you see in these photos. It was the perfect way to head into the night. The reception was a blast. Tanner is a firefighter, and even though we did not do any photos with a fire engine, there were a few little things at the reception which highlighted that. The night ended with a great sparkler exist to send the couple on the way to their wonderful honeymoon!
Huge congrats to both of you. We have had a great time getting to know you both and so thankful you chose us to document your day! Blessings to you both!
Joel