by St Louis Wedding Photographers Joel & Shannon
3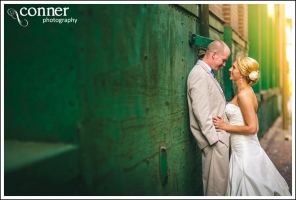 Greetings from Joel and Shannon…your friendly neighborhood St Louis Wedding photographers! There are those certain weddings that you know long before the day arrives that it is going to be a great day. This was one of those weddings. We … Continued
Greetings from Joel and Shannon...your friendly neighborhood St Louis Wedding photographers! There are those certain weddings that you know long before the day arrives that it is going to be a great day. This was one of those weddings. We always talk over locations with our couples to get an idea of what they are wanting for their wedding day photos. Lauren and Eric's engagement session was at her family's beautiful farm, so they wanted something a bit more urban and rustic for their wedding day photos. We do not get to shoot in locations like this as often as we would like, so we were super pumped about it!
We started out the day with the girls at the glorious Chase Park Plaza in St. Louis. It was instantly clear how very important family is to Lauren, because she had special gifts and personal letters to both her mother and her sister. It was so sweet, and the tears were flowing.  I (Joel) stayed only a little bit before I made the long drive to Eric's family house to get some shots of him and the guys hanging out, and after I left, Shannon went around the hotel and the Central West End with the girls and had some fun taking photos out on the street.
Lauren had let us know that it was very important to have a photo of Eric's face and she walked in to the church, and as she came through the doors of the church, the look on his face was priceless. That is always one of my favorite parts of the day, because you never know how the guy is going to respond. Most of the time they tear up, and other times they just stand there in awe of their gorgeous bride coming towards them. It gets me each time. It was a short but lovely ceremony, and their smiles as they came back down the aisle made everyone else smile even more.
We had a long time in between the ceremony and the reception, so after we were finished at our awesome urban decayed location, we headed to McGurk's Pub in South St. Louis, which happens to be my favorite pub in all of St Louis. After a few drinks there, we went on to the reception at Neo on Locust, which is a very cool reception venue. The party was rocking, and everyone was clearly having a blast and dancing the night away.
Weddings where family is a big part always stand out to us, and this was one of those days. We cannot help but be moved when we know the families so support and love their kids...it helps us to know that the couple has the best possible start in their new life together. The biggest of all congrats to Lauren and Eric. Blessings to you both, and we are so excited for you in your amazing new life together!
Joel
P.S. Since so many people ask us about the props and such they see our brides with...Lauren's sister Brittany is an amazing artist, and she painted the "Just Married" on her umbrella that you see in the photo. She may not do it for work, but she did as professional a job on the umbrella as you will ever see! Also, she hand drew a copy of one of their engagement photos which was incredible. Needless to say, we were impressed ;)
P.P.S Special thanks to the amazing Melissa for rocking this wedding with us! We love it when one of our girls comes along with us for an extra dose of awesomeness.
P.P.P.S A big shout out to Becky Huffman who did all of the amazing flowers for the wedding. You will not find anyone better than her in all of St Louis...for reals.
Written by Joel Conner | St. Louis Wedding Photographers