by St Louis Wedding Photographers Joel & Shannon
9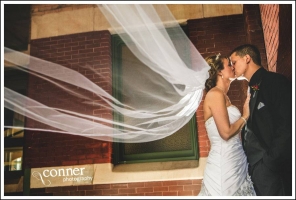 Love in the Land of Lincoln…by St Louis Wedding Photographers Joel & Shannon We first met Amanda & Brendan in person at the Wooden Nickel Winery, which is located about half-way between us, in the St. Louis area, and them … Continued
Love in the Land of Lincoln...by St Louis Wedding Photographers Joel & Shannon
We first met Amanda & Brendan in person at the Wooden Nickel Winery, which is located about half-way between us, in the St. Louis area, and them near Springfield. We liked them instantly and knew we were going to have an awesome time shooting their wedding in our state capitol. The wedding day arrived looking beautiful, but ominous weather was in the forecast so we had our "rain plan" in place for photos after the ceremony. Little did we know that mother nature was going to be give us a bit of a surprise. About 10 minutes before the ceremony was to start - everyone was lined up and all the guests were seated - a funnel cloud was spotted...heading right toward the church. A "tornado wedding"...just what every bride wants!
Now this church had just been rebuilt from tornado damage previously, and this was the first wedding to be held there, so they took the sighting pretty seriously. Everyone got inside an interior hallway. Amanda and the girls were tucked away in an interior room as we tracked the weather on our phones. For the situation, it was quite calm. The weather cleared a bit, and we were able to proceed with the ceremony as planned. Talk about some wedding day drama! Not since our own wedding (which also had tornadoes) have we had such crazy wedding weather.
Afterward we went to do photos at the historic Old Capitol building in downtown Springfield, as well as at the train station (both DRY locations) :) before heading to the reception at the President Abraham Lincoln Hotel. All in all it was a great day, and we were able to get some really cool dramatic shots with the dark skies. They say rain on your wedding day is good luck (and while I personally think that is a load of crap - as does any bride whose had rain on her wedding day); rain and dark skies can make for cool photos if you can endure them. Amanda & Brendan were great, and we are so happy we were able to be a part of their special day!
~Shannon
To see their photobooth photos click here.
Written by Shannon Conner | St. Louis Wedding Photographers