by St Louis Wedding Photographers Joel & Shannon
7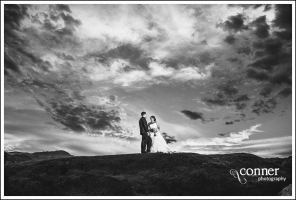 Getting Married at God's Garden…by St Louis Wedding Photographers Joel & Shannon This year we (and by we I mean Joel) got to shoot my best friend Christina's wedding, which I was in, in Colorado. It was so fun to … Continued
Getting Married at God's Garden...by St Louis Wedding Photographers Joel & Shannon
This year we (and by we I mean Joel) got to shoot my best friend Christina's wedding, which I was in, in Colorado. It was so fun to be one of the ones in the bridal party for a change :) I met Christina about 9 or 10 years ago, and we lived together for 2 years. We've been close friends ever since. She was my maid of honor when Joel and I got married, 2 1/2 years ago, so I was super excited to return the favor for her and Blake this year!
Christina & Blake met in school and quickly developed a close bond - they are both very deep and love deep conversation, so their relationship moved quickly. When she told me they were talking marriage I told her, before she set her date they had to check with us since there was no way I was going to miss this wedding! I was especially excited to be back in my hometown of Colorado Springs, and Joel was pumped about doing photos at the gorgeous
Garden of the Gods
.
On a fashion note, Christina & I both wore
Toms
for the wedding; I know they may be overly trendy this year, but I don't care. I love them! (I had mine shipped directly to my friend Wendy's house, whom we were staying with - at least I thought. But having a dyslexic moment, I inverted her address and the shoes ended up at a neighbors - fortunately they called
Toms
when they received them, and I was able to track them down!) I also loved getting to see some of the new venues that have cropped up since I moved from there 6 years ago. The ceremony was held at the historic Carter Payne - absolutely gorgeous. And for the reception we went a few blocks to
The Warehouse
, which as a great unique venue with excellent food! We had a wonderful time celebrating and getting some amazing images for Christina & Blake, and we are so happy for them!
Thanks for your patience guys; I think it was worth it! :)
~Shannon
PS - If you are reading this and are planning a wedding in Colorado Springs, we LOVE to travel, so visit our contact page and hit us up. We love getting to do weddings outside our local St. Louis area!
If you know Christina & Blake and would like to see ALL of their photos, click
here
. The password is the couple's new last name.
Written by Shannon Conner | St. Louis Wedding Photographers