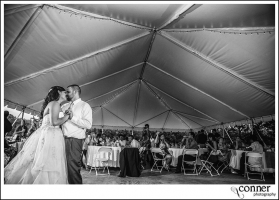 A DIY Weingarten Wedding with Lindsay & Bret by St. Louis Wedding Photographers, Joel & Shannon Conner Lindsay & Bret are a very special couple. I know we say that a lot, but what I can I say? We get … Continued
A DIY Weingarten Wedding with Lindsay & Bret by St. Louis Wedding Photographers, Joel & Shannon Conner
Lindsay & Bret are a very special couple. I know we say that a lot, but what I can I say? We get to work with some AMAZING people! When we first met them Bret wanted to know if we retouched our photos on a Mac, so I called them the Mac couple for awhile. (Side note: Joel is a PC; I am a Mac, at heart - but mine is way too old to run the programs we need, so I'm PC too these days :) But we love our iPad and are converting back to iPhones soon!) I'd say we really got to know Bret and Lindsay more during their engagement session with the adorable Savanah, which is why we love engagement sessions! After that we talked more and just became friends. Bret even helped Joel fix our t-shirt dryer for our shop! So needless to say we were super excited about their wedding  - plus the reception was taking place outside under a tent at one of our favorite venues, The Weingarten.
Their day was truly magical, and the photos look like like something out of a fairy tale (at least I think they do) ;) Lindsay's dress was incredible, and one thing that I loved was that she wore TOMS shoes! (Although I love high fashion; I love TOMS and what they do.) Plus all the details she and Bret put together for the reception were spectacular. Talk about taking DIY to the next level! The day was filled with such beautiful emotion and heartfelt moments. One of the most memorable was during the toast by Bret's brother, the best man. I would wager to say there was not a dry eye in the room. If you want to hear a beautiful story, check out the YouTube video. We've had such a fun time getting to know Bret, Lindsay and Savanah and we are so glad Bret was ok with hiring us even if we weren't totally Mac! ;)
~Shannon
If you are a friend and want to see all their photos click here. The password is the couple's new last name.
Vendors
Ceremony - St. Mary's Catholic Church, Belleville, IL
Reception - The Weingarten
Coordinator - Andrea Beringer
Videographer - Applause Productions
Cake Artist - Christi Cox
DJ - Complete Music
Makeup Artist - Mandi Yancy
Hair Artist - Kristi Cates
Bridesmaid Dresses - David's Bridal
Written by Joel Conner | St. Louis Wedding Photography