by St Louis Wedding Photographers Joel & Shannon
0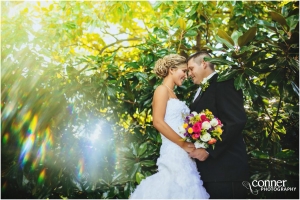 Katie and Tony are one of those sweet couples that you have to dig a bit to get to know (they were so quiet when we first met!), but when you do you find two people with big hearts and … Continued
Katie and Tony are one of those sweet couples that you have to dig a bit to get to know (they were so quiet when we first met!), but when you do you find two people with big hearts and lots of love. Their wedding was a sweet picture of family, friendship and joy. When we arrived at the church, we were overwhelmed (in a good way) by the beautiful flowers everywhere and excitement of everyone present. It was a lovely ceremony and a great day to celebrate this new family.
On a comical (sort of) note, if you are planning on lining your aisle with rose petals - which looked beautiful - you may want to consider getting shoe grips for your bridesmaids. Rosepetals + marble floor = very slippery. Several of the girls slipped and one pregnant bridesmaid almost wiping out. She laughed it off and thankfully her escort was able to steady her, but that floor was slippery (albeit very pretty). But there were no casualties and the day went smoothly.
Congratulations Katie & Tony!
Written by Joel Conner | St. Louis Wedding Photographers