by St Louis Wedding Photographers
0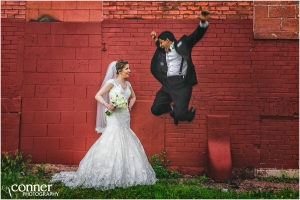 Here is part two of Valerie and Bobby's wedding!!! On Friday we had their amazing St Louis Hindu wedding, and on Saturday we had their Catholic wedding! It was such a great…and long…weekend, and we could not have enjoyed our … Continued
Here is part two of Valerie and Bobby's wedding!!! On Friday we had their amazing St Louis Hindu wedding, and on Saturday we had their Catholic wedding! It was such a great...and long...weekend, and we could not have enjoyed our time with them and their families any more than we did. The wedding ceremony was at St. Clare Catholic Church in O'Fallon, IL. From there we went on to Bobby and Val's neighborhood in Lafayette for most of their photos (one of the highlights being almost run over THREE TIMES by a persistent bicyclist in the park). From there we went to the Old Courthouse for a few more before we ended up at the Falls in Columbia...which is one of our favorite reception venues on the Illinois side of the river.
Looking for the photobooth photos from their reception, check out the blog post here: ST LOUIS PHOTOBOOTH
Huge congrats (again!) to Bobby and Valerie!
Written by Joel Conner | St. Louis Wedding Photographers