by St Louis Wedding Photographers Joel & Shannon
1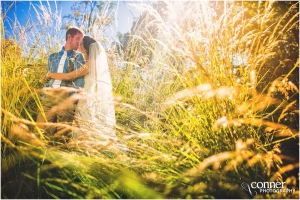 Kristen & Cody Fall DIY Wedding at Pere Marquette We first met Kristen and Cody at a small wedding show last year, and I clearly remember liking them when we first chatted. They are both on the quiet side but … Continued
Kristen & Cody Fall DIY Wedding at Pere Marquette
We first met Kristen and Cody at a small wedding show last year, and I clearly remember liking them when we first chatted. They are both on the quiet side but extremely friendly and caring. Even more, though...it was clear how excited they were to be getting married. Once we got the chance to know them more from meeting with them and their engagement session, we knew we were in for a treat working with them. They are both outdoors type people, so they decided to have a beautiful outdoor fall wedding at Pere Marquette State Park  which is one of our favorite places to visit.  The mentioned a few of the ideas they had to make it look nice, but we were so amazed when we saw what they pulled off!
Cody works in the landscaping industry, so he is incredibly gifted in design and construction and florals/plants. You will see a ton of details in the photos below, and he put all of them together himself. In fact, he even did all of the flowers except for Kristen's bouquet. The amount of love and joy they both poured into the day was so wonderful to see. They were so excited to see each other, and the smiled they had at that moment were the biggest I had ever seen on their faces. We did most of the photos before the wedding so that we could right into the reception, and we had a ton of fun running around doing them. I may have gotten covered by about 1,000 burs at one point after wading through from 7 feet tall grass, but it was so worth it. We rode up the hill up in the back of Cody's truck to where we were doing photos, and we got some fun captures of them as we came back down the hill (very slowly to ensure we all stayed safe haha).
When it came time for the ceremony, the weather and lighting were just perfect. Everyone was so happy for these two (except for Kristen's nephew...who melted down in tears when it was his turn to walk down the aisle). We went right into the reception after the ceremony, and the party was kicked off by a few members of Cody's family doing a amazing choreographed dance...much to the entertainment of all of us there.  Everyone had a great time dancing and partaking of the ice-cream bar (which they had in lieu of a cake).
Huge congrats to both of you...we are so thrilled to have been a part of your wedding experience, and we are so excited for you and your future together. You have a wonderful life ahead of you!
Joel
P.S. Huge thanks to the amazing Melissa Kayser for shooting this wedding with me. She has been working with me on and off since before Shannon and I were together, and she has been a huge asset to us. She has decided to not photograph weddings any more so that she can focus more time on her family of four, and while we will miss her terribly, we are so happy for her. We love you, Melissa!
Written by Joel Conner | St. Louis Wedding Photographers